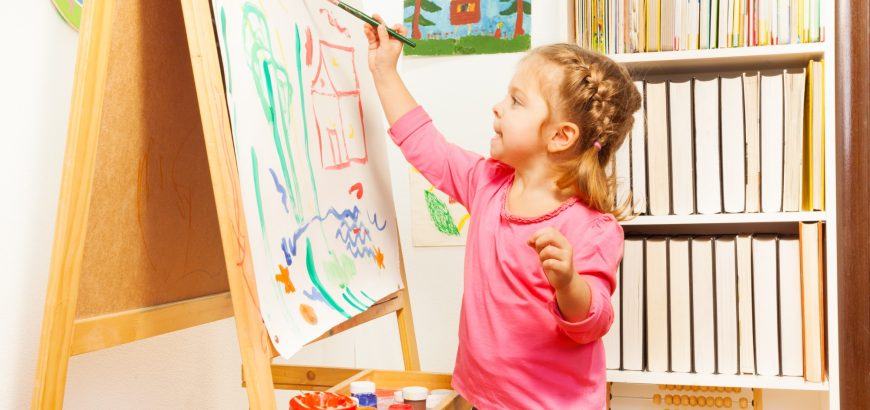 Creative Ways to Display Your Child's Artwork
Your child is Picasso, and you need somewhere to hang their prolific artwork. While scratches, scribbles, and discarded work can go in the trash, you need somewhere to cherish their keepsakes. Some artwork may find its way onto your iPhone, a keepsake box, or a well-placed frame in your home, while others end up stashed under old paperwork. Others you will want to display proudly and save on wall art decor for your little artist's room. While framing artwork works for the parent of shy artists, others may need to create a more heavy-duty approach to keeping their child's masterpieces organized with a pleasing aesthetic. Here are creative ways to display your child's artwork.
Clothes, Photo, and Garland line with Clips
Photo lines, clotheslines, and garlands with clips come in different styles and can be homemade. Photo lines are ideal for lightweight 3D masterpieces (think popsicle stick crafts, paper plate creations, or handmade jewelry) and smaller drawings. There are so many variations of photo clip lines depending on your budget and taste. Wood bead garlands are decorative boho-styled lines with a natural touch. You can find garlands starting at $11 on Amazon. You can buy photo lines with lights or create a clothesline with burlap yarn. Use floral garlands and add clips or rope-like materials at craft stores like Michaels. Ensure your child cannot reach the garland clips unless they are over seven.
Install Shelves or Curtain Rods
Installing curtain rods and shelves are practical ways to display your little one's artwork. Curtain rods use a similar thought pattern to showcase art as garlands, but they are more permanent. Just add clips! Installing Floating Shelves is costly but effective for showcasing heavy-duty 3D masterpieces like clay sculptures or canvas paintings. You can hang up your favorite mother's day tee using a hanger on a curtain rod. Choose what looks best in your home. This option is ideal for small children who love to touch everything.
Magnetic Boards, Chicken Wire Frames, and Cork Boards
These options require installation, but they give you an easy way to change and display artwork. Install magnetic chalk or titanium boards over your child's desk, play table, or reading area. This beautiful collage works with any paper art and allows them to take pride in their work. With blackboards, you can decorate the blackboard or leave it for your creative genius. Children under four may play with magnets, so consider out-of-reach options like chicken wire frames with metal clips. Cork boards are practical options for kids over seven and go with study spaces. Whatever you choose, think about your child's age and the room layout.
Gallery Framing and Book Publication
Have your child's cherished pieces added to a gallery frame, canvas printed, or published into a book. Investing money into canvas-printed art, stylish frames, or a published book will allow your child's artwork a place in your home. Measure their beloved artwork for a picture frame, or check out a canvas print company like Scribble Magic Lab. (They also turn artwork into shower curtains, small gifts, wallpaper, and more!) Online print book publication companies such as Plum Print will turn your child's artwork into a book that they can keep or you can display on your bookshelf. These choices give your child pride in their work and cherish beloved memories.
A Multitude of Ideas
There are many creative ways to display your child's artwork. Take time to decide which pieces you love and allow your child to choose their favorite creations. Together you will find the best works to display. Other methods of displaying artwork include posters and laminating art walls. Whichever you choose, make sure it works for you and your child's desires. Go through the works with your little one to see if there is any artwork they don't want. Sometimes the artist would rather forget. If you love it, you can save it for yourself. Whether you like it or your child likes it find a way to maximize art storage or display it. The possibilities are endless!
Is your child ready for preschool? Check out our daycare, Triangle Learning Center. Triangle Christian Center's Director, Christine Whitfield, loves DIY projects and uses the IKEA organization collection. Along with her creative ventures, she has a heart for kids, loves serving in the children's ministry, and is constantly looking for fun ways to create spaces throughout the school.
Sources- 21 Kids Art Display Ideas for Your Home (artfulparent.com)
10 Fun Ways to Display Your Kids Art Work – 24/7 Moms (247moms.com)
Plum Print-Your Child's Art in a Custom Book
Personalized gifts | turn children's artwork into gifts | buy a gift (scribblemagiclab.com)
Amazon.com : photo lines and garlands