Nurturing Staff and Loving Comfort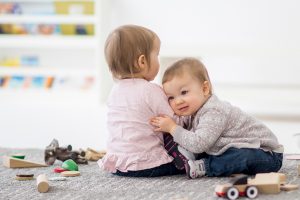 Every parent wants their infant and toddler to experience the love they receive at home. Our Nurturing staff provides the loving comforts of home while helping transition infants and toddlers to a more structured environment. With scheduled naps, meals, outdoor walks, and activities, little ones can be psychologically prepared for the years ahead. Our staff allows toddlers to be toddlers while they keep track of your child's development. Our environment has always had strict sanitation measures. With the rising concern in Covid-19, we have upgraded our safety measures. (See the highlighted link for Covid-19 resources on our main page. Our current sanitation rules are from CDC recommendations.) When you leave your infant or toddler with our
highly-trained staff, they are getting tender loving care or the best of TLC.