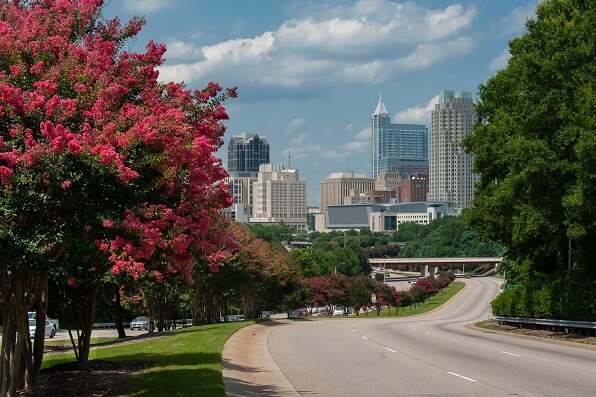 Child Education – The Ideal Location
The Triangle is North Carolina's business and education hub. With biopharmaceuticals, IT centers, and international businesses, it is the growing area for progress on the East Coast. To add to that, it has 12 major colleges and universities. Before the Y2K movement, transplants from the Midwest and North East were already making a home in North Carolina. With the surge of the internet, North Carolina State University became a cornerstone for computer science majors leading to the rise in NC's technical market. Its ongoing forests, surrounded by demure suburbs, and neighborhood shopping centers make it more serene than America's larger metro areas. Urban areas are only minutes away. Farms are not far out of reach. Whether you choose to live in the bustling historic downtown area of Raleigh or the tranquil suburbs of Cary, the job market is booming, especially in Research Triangle Park.
Many families are moving to the Triangle because they know a safe community, top medical care, and a quality education contribute to a child's upbringing. 
The Triangle is the Ideal Place for Education
US News ranks the state of North Carolina as #7 in the United States for education. While this statistic refers to statewide performance, the Triangle is ideal for families looking for daycare, private, and charter schools. Here are the top reasons that the Triangle is great for education.
Wake County, located over Raleigh, Cary, Apex, Morrisville, and Research Triangle Park, has a voucher program for families looking to save on the cost of childcare. Not every school accepts vouchers, but lots of private institutions do.
Childcare laws in Wake County go the extra mile to protect small children. From sanitation procedures to background checks. The system ensures that children are only receiving care from county-approved individuals.
Research Triangle Park offers lots of work to those living in the Raleigh-Durham area and has easily accessible childcare to parents.
Childcare Services Association serves Wake, Durham, and Orange County. This association was founded in 1974 to ensure children had a head-start towards affordable quality education. They offer the T.E.A.C.H. program, which pays childcare providers scholarships to reach their teaching degrees. The idea is that paying for the tuition for educational majors' degrees will increase competition in the teacher labor force in North Carolina.
Children who receive childcare and education in the Triangle are more likely to access top-ranking universities like Duke or UNC-Chapel Hill. Tuition costs for the state of North Carolina universities are lower if you are a resident.
Wake County offers a STEM program for children to take college courses early. This program gives children an early start through North Carolina State University.
North Carolina State University Computer Science program was ranked #1 for online computer Science Master's degrees in 2021. Glassdoor estimates that computer science degree majors are currently the most likely to be employed upon graduation.
While the Triangle continues to grow in business, entrepreneurship, and population, the childcare programs, safety measures, science, education, and career opportunities make the Triangle the ideal place for childhood education and families alike.
Sources
Raleigh & Durham, NC, School Districts & Quality Assessments | U.S. News Best Places (usnews.com)
Which Majors Get the Best Jobs Right out of College (ncsu.edu)
Best online master's in computer science 2022: Top picks | ZDNet
Wake STEM Early College High School / Homepage (wcpss.net)
Duke, UNC rank high in U.S. News 2022 best global universities - Triangle Business Journal (bizjournals.com)
Child Care Services Association — Ensuring affordable, asccessible, high-quality child care
Moving Here | Work in the Triangle